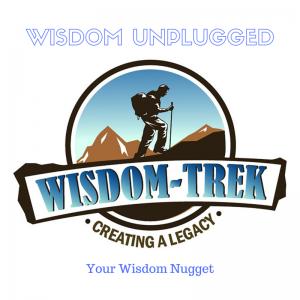 Wisdom-Trek / Creating a Legacy
Welcome to Day 640 of our Wisdom-Trek, and thank you for joining me.
This is Guthrie Chamberlain, Your Guide to Wisdom
A Fool May Talk, But a Wise Man Speaks – Wisdom Unplugged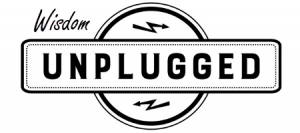 Thank you for joining us for our 5 days per week wisdom and legacy building podcast. This is Day 640 of our trek, and it is time for a 3-minute mini-trek called Wisdom Unplugged. This short nugget of wisdom includes an inspirational quote with a little additional content for today's trek. Consider this your vitamin supplement of wisdom for today. So let's jump right in with today's nugget.
Today's quote is from Ben Jonson who said, "To speak and to speak well are two different things. A fool may talk, but a wise man speaks."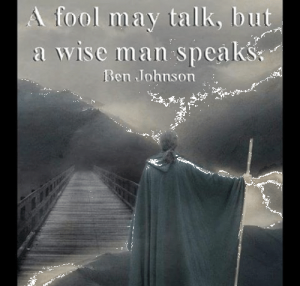 Based on my observations, it is evident that most of us speak much more than is necessary or advisable. We all want to pontificate and air our opinions on a myriad of life issues, even if we do not have the wisdom or knowledge in that particular area.  We are so ready to speak and add our 2 cents worth that we really don't even listen to what another person is really saying.
I refer to this as verbal diarrhea as it adds little value and becomes unpleasant to others that are part of the conversation. This happens when we engage our tongue before we engage our brains…we are all prone to fall into this trap.
It would do all of us well to truly listen to what is being said and only add to the conversation if it will be beneficial and encouraging to those with whom we are speaking. There is nothing wrong or awkward to allow silence to permeate a conversation so that we can really understand.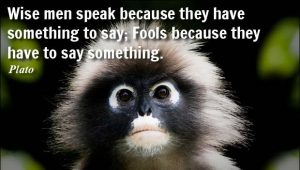 A person who has learned to bridle his tongue is a mature, wise, and discerning person. The next time that you are having a conversation with someone or are part of a group conversation, try only adding to the conversation when it will truly benefit those who are there. I believe that you will find that you are speaking much less and learning much more. This is how wisdom is increased in our lives.
The Book of Wisdom, Proverbs, is full of warnings to those who speak too much or inappropriately. Here are a three that apply to today's thoughts:
Proverbs 10:19 – Too much talk leads to sin. Be sensible and keep your mouth shut.
Proverbs 17:27 – A truly wise person uses few words; a person with understanding is even-tempered.
Proverbs 29:20 – There is more hope for a fool than for someone who speaks without thinking.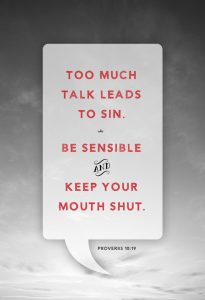 That's a wrap for today's Wisdom Unplugged. If you enjoy these quotes, I have created and published a searchable database of over 10,000 quotes that I have collected for many years. If you would like free access to my database of inspirational quotes, the link is available on the main page of Wisdom-Trek.com.
As you enjoy these nuggets of wisdom, please encourage your friends and family to join us and then come along tomorrow for another day of our Wisdom-Trek, Creating a Legacy.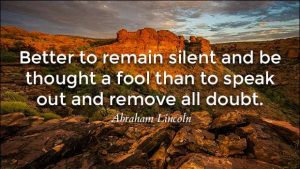 If you would like to listen to any of our past treks or read the Wisdom Journal, they are available at Wisdom-Trek.com. You can also subscribe at iTunes or Google Play so that each day's trek will be downloaded automatically.
Thank you so much for allowing me to be your guide, mentor, and most of all your friend as I serve you through the Wisdom-Trek podcast and journal.
As we take this trek of life together, let us always:
Live Abundantly (Fully)
Love Unconditionally
Listen Intentionally
Learn Continuously
Lend to others Generously
Lead with Integrity
Leave a Living Legacy Each Day
This is Guthrie Chamberlain reminding you to Keep Moving Forward, Enjoy Your Journey, and Create a Great Day Every Day! See you tomorrow for Wisdom Wednesday!