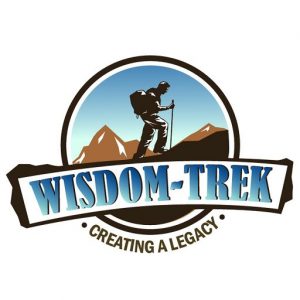 Wisdom-Trek / Creating a Legacy
Welcome to Day 613 of our Wisdom-Trek, and thank you for joining me.
This is Guthrie Chamberlain, Your Guide to Wisdom
Two Minute Warning

Thank you for joining us for our 5 days per week wisdom and legacy building podcast. This is Day 613 of our trek, and today is Philosophy Friday. Every Friday we ponder some of the basic truths and mysteries of life, and how they can impact us in creating our living legacy.
Currently, we are on an extended multi-week trek as we explore the teachings from some of my virtual mentors, such as Jim Rohn, Zig Ziglar, and Earl Nightingale. The core of our current trek is based primarily on Jim Rohn's book called The Five Major Pieces to the Life Puzzle. I have learned a considerable amount from reading and re-reading this book on my own trek of life, and I trust that it will benefit you also. Keeping with the continuity of Wisdom-Trek, I have adapted it to The Five Trails on Life's Trek.
We are broadcasting from our studio at The Big House in Marietta, Ohio. Our granddaughter Hazel has shown a marked improvement in how she feels this week. It is so great to see her smile and laugh after several weeks of her being very sullen. We do realize that she will have weeks that are good and other weeks that are not over the course of the two years of treatments, but that allows us to appreciate the good times that much more.
There are many trails that we must trek on throughout our lives, and many obstacles that are on our paths. When we do experience difficult trails and seasons of life, it helps us to be grateful for the pleasant trails and seasons that also come our way.
As we remain in camp for a few weeks, we are sitting around the campfire and reviewing The Five Trails on Life's Trek that we have already completed. When we are faced with significant trials in life, we begin to realize that we cannot wait until tomorrow to make an impact on our world. We cannot waste our days, but we must live the rich and satisfying life each day. As we wrap up this series over the next few weeks, it is my desire help you grasp this concept.
So as we remain at camp, let us ponder and consider…
The Five Trails on Life's Trek – Conclusion (2)
As we continue our conclusion, remember our overall extended trek covered these five trails:
Philosophy

Attitude

Activity

Results

Lifestyle
1. Today Is Yesterday's Tomorrow
The problem with waiting until tomorrow is that when it finally arrives, it is called today. Today is yesterday's tomorrow. The question is what did you do with its opportunity? All too often you will waste tomorrow as you wasted yesterday, and as you are wasting today. All that could have been accomplished can easily elude you, despite your intentions, until you inevitably discover that the things that may have been have slipped from your embrace, which is a single, unused day at a time.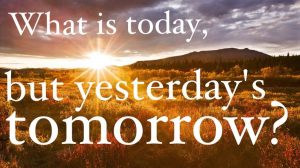 You must frequently pause to remind yourself that the clock is ticking. The same clock that began to tick from the moment you drew your first breath will also someday cease.
Time is the great equalizer of all mankind. It has taken away the best and the worst of people without regard for either. Time provides you an opportunity but also demands a sense of urgency.
2. The Two-Minute Warning
It is interesting to watch football teams on a Sunday afternoon. They invest the first fifty-eight minutes routinely following the game plan they thought would result in victory. Then something rather remarkable happens. An official walks onto the center of the field and announces what has come to be known as the "Two Minute Warning." This reminds me of when we were raising our children and had to have them in the van to go somewhere, particularly to church. I would walk down our hallway and announce in a firm and slightly raised voice, "Two minutes!" The kids knew that they were to be in the seat in the van before the two minutes were over.

Back to our football analogy…What happens in the following one hundred and twenty seconds is frequently awesome. You will often witness more intensity, more cleverness, more expended energy, and more action compacted into those two final minutes than occurs in the previous fifty-eight.
Why?
There is a sudden awareness of the sense of imminent defeat, and the birth of a new and sharpened sense of urgency. The team members know that the clock will show no favoritism. The clock will merely do what clocks are supposed to do. They will tick away the seconds until the game is finally over.
The team that finds itself on the threshold of defeat could have shown an extraordinary level of ingenuity and intensity at any time throughout the game. The team had the potential and the opportunity to outscore their opponents early in the game. But sometimes, despite their intentions, the players make only an average effort until it is too late. Sometimes the blowing of the whistle announcing the two-minute warning is merely a formality signifying the probability of impending and irreversible defeat.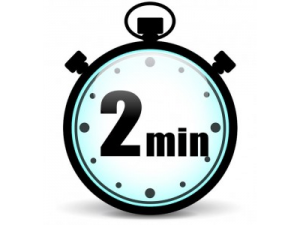 So it is with the individual human life. The seconds slip into minutes, and the minutes into hours, and the hours into days until you wake up one morning and discover that the moments of opportunity are gone. You spend your final years reliving dreams that might have been, regretting all that never was and now never will be.
When the game of life is finally over, there is no second chance to correct your errors. The clock that is ticking away the moments of your lives does not care about winners and losers. It does not care about who succeeds or who fails. It does not care about excuses, fairness, or equality. The only essential issue is how you played the game.
Regardless of your current age, there must be a sense of urgency that should drive you into action now, at this very moment. You should be constantly aware of the value of each moment of your life. These moments may seem so insignificant that their loss often goes unnoticed.
As of today, you still have all the time you need. You still have lots of chances, lots of opportunities, lots of years to show what you can do. Most likely there will be a tomorrow, a next week, a next month, and a next year for you, but you are not guaranteed more than your next breath. Unless you develop a sense of urgency, those brief windows of time will be sadly wasted as were the weeks and months and years before them. There isn't an endless supply of time for you on this earth, you must make the most of the precious moments that you have today! You need to take to heart the letter the Apostle Paul wrote in Ephesians 5:15-17, "So be careful how you live. Don't live like fools, but like those who are wise. Make the most of every opportunity in these evil days. Don't act thoughtlessly, but understand what the Lord wants you to do."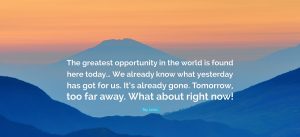 We are deliberately taking our trek slowly on The Five Trails on Life's Trek as we remain in camp for a few more weeks and ponder all that we have explored. You learned that Today Is Yesterday's Tomorrow and that you need to generate a sense of urgency because none of us know when we will receive our Two Minute Warning for our lives.
On our next Philosophy Friday, we will continue to invest time back at camp around our campfire as we summarize The Five Trails on Life's Trek and focus on "Learn to see the future in advance." So join us next Friday for these additional insights. I know you will find these insights interesting and profitable in living a rich and satisfying life. Our next trek is Motivation Monday, so encourage your friends and family to join us and then come along on Monday for another day of our Wisdom-Trek, Creating a Legacy.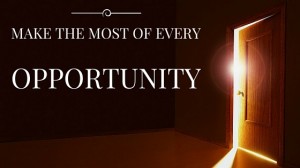 If you would like to listen to any of our past treks or read the Wisdom Journal, they are available at Wisdom-Trek.com. You can also subscribe at iTunes or Google Play so that each day's trek will be downloaded automatically.
Thank you so much for allowing me to be your guide, mentor, and most of all your friend as I serve you through the Wisdom-Trek podcast and journal.
As we take this trek of life together, let us always:
Live Abundantly (Fully)
Love Unconditionally
Listen Intentionally
Learn Continuously
Lend to others Generously
Lead with Integrity
Leave a Living Legacy Each Day
This is Guthrie Chamberlain reminding you to Keep Moving Forward, Enjoy Your Journey, and Create a Great Day Every Day! See you on Monday!