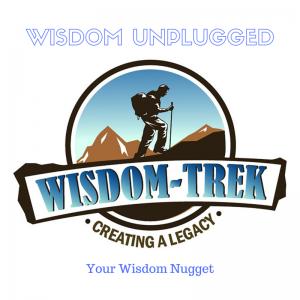 Wisdom-Trek / Creating a Legacy
Welcome to Day 612 of our Wisdom-Trek, and thank you for joining me.
This is Guthrie Chamberlain, Your Guide to Wisdom
The Virtue of Courage – Wisdom Unplugged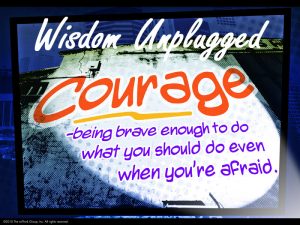 Thank you for joining us for our 5 days per week wisdom and legacy building podcast. This is day 612 of our trek, and it is time for a 3-minute mini-trek called Wisdom Unplugged. This short nugget of wisdom includes an inspirational quote with a little additional content for today's trek. Consider this your vitamin supplement of wisdom for today. So let's jump right in with today's nugget.
Today's quote is from C.S. Lewis who said, "The virtue of courage is a prerequisite for the practice of all other virtues otherwise one is virtuous only when virtue has no cost."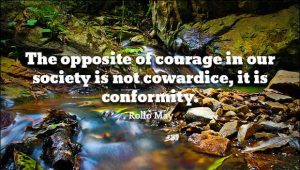 Virtue is morally good behavior or character. A good and moral quality. The good result that comes from something.
It takes courage to stand for what is morally right and not succumb to the pressure of others in this politically correct environment that is so prevalent in most societies today. With access to so much information today, this pressure seems to be more prevalent than ever, but as King Solomon tells us in Ecclesiastes 1:9, "History merely repeats itself. It has all been done before. Nothing under the sun is truly new."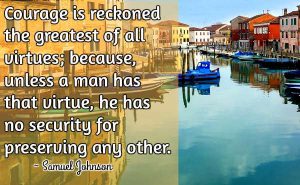 That is why the virtue of courage is the prerequisite virtue to all others. Without the virtue of courage, we would fear the reprisal of others when we stand strong with morally good behavior, character, and integrity. Courage has a cost associated with it, and you must be willing to pay that cost to live a life that is good and godly. Instead of courage having a cost associated with it, I like to think that it is an investment. If we invest in courage and take a stand so that our lives display morally good behavior and character, we will see a return that will impact the lives of others and last throughout eternity.
As we are taught in the Apostle Peter's 2nd letter 1:5-8, "In view of all this, make every effort to respond to God's promises. Supplement your faith with a generous provision of moral excellence, and moral excellence with knowledge,  and knowledge with self-control, and self-control with patient endurance, and patient endurance with godliness,  and godliness with brotherly affection, and brotherly affection with love for everyone.  The more you grow like this, the more productive and useful you will be in your knowledge of our Lord Jesus Christ."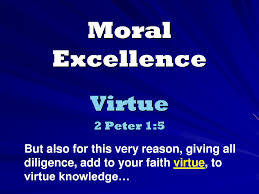 Have the courage of virtue, or as this verse says, moral excellence. It is then that the other virtues will fall into place.
That's a wrap for today's Wisdom Unplugged quote. If you would like free access to my database of over 10,000 inspirational quotes, the link is available on the main page of Wisdom-Trek.com. As you enjoy these nuggets of wisdom, encourage your friends and family to join us and then come along tomorrow for another day of our Wisdom-Trek, Creating a Legacy.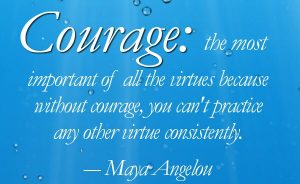 If you would like to listen to any of our past treks or read the Wisdom Journal, they are available at Wisdom-Trek.com. You can also subscribe at iTunes or Google Play so that each day's trek will be downloaded automatically.
Thank you so much for allowing me to be your guide, mentor, and most of all your friend as I serve you through the Wisdom-Trek podcast and journal.
As we take this trek of life together, let us always:
Live Abundantly (Fully)
Love Unconditionally
Listen Intentionally
Learn Continuously
Lend to others Generously
Lead with Integrity
Leave a Living Legacy Each Day
This is Guthrie Chamberlain reminding you to Keep Moving Forward, Enjoy Your Journey, and Create a Great Day Every Day! See you tomorrow for Philosophy Friday!