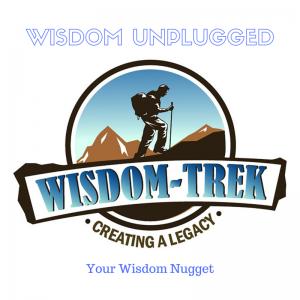 Wisdom-Trek / Creating a Legacy
Welcome to Day 595 of our Wisdom-Trek, and thank you for joining me.
This is Guthrie Chamberlain, Your Guide to Wisdom
Calmness of Mind – Wisdom Unplugged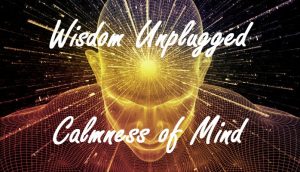 Thank you for joining us for our 5 days per week wisdom and legacy building podcast. This is Day 595 of our trek, and it is time for a 3-minute mini-trek called Wisdom Unplugged. This short nugget of wisdom includes an inspirational quote with a little additional content for today's trek. Consider this your vitamin supplement of wisdom for today. So let's jump right in with today's nugget.
Today's quote is from James Allen who said, "The more tranquil a man becomes, the greater is his success, his influence, his power for good. Calmness of mind is one of the beautiful jewels of wisdom."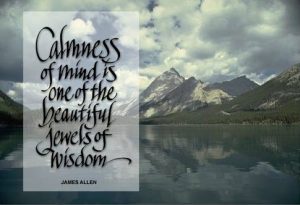 A person who is truly wise will also be a person who displays calmness in the midst of stress and hardships. A wise person realizes that if they allow themselves to lose control of their emotions, then they will make foolish decisions, take foolish actions, and say foolish and hurtful words to others, including those that they love. A wise person will not allow external circumstances to control their mind, which controls his actions. A wise person who remains calm in every situation is certainly a beautiful treasure in a world filled with hate and violence. There are so many verses in Proverbs that teach us these principles. Here are a few that I have chosen.
12:16&version=NLT">Proverbs 12:16 – A fool is quick-tempered, but a wise person stays calm when insulted.
14:17&version=NLT">Proverbs 14:17 – Short-tempered people do foolish things, and schemers are hated.
Proverbs 15:1 – A gentle answer deflects anger, but harsh words make tempers flare.
17:27&version=NLT">Proverbs 17:27 – A truly wise person uses few words; a person with understanding is even-tempered.
Ecclesiastes 7:9 – Control your temper, for anger labels you a fool.
That's a wrap for today's Wisdom Unplugged. If you enjoy these quotes, I have created and published a searchable database of over 10,000 quotes that I have collected for many years. If you would like free access to my database of inspirational quotes, the link is available on the main page of Wisdom-Trek.com.
As you enjoy these nuggets of wisdom, please encourage your friends and family to join us and then come along tomorrow for another day of our Wisdom-Trek, Creating a Legacy.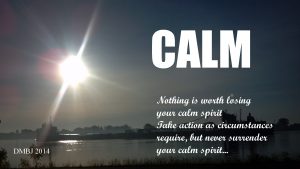 If you would like to listen to any of the past daily treks or read the daily journal, they are available at Wisdom-Trek.com. You can also subscribe on iTunes and Google Play so that each day's trek will be downloaded automatically.
Thank you for allowing me to be your guide, mentor, and most of all your friend as I serve you through the Wisdom-Trek podcast and journal.
As we take this trek of life together, let us always:
Live Abundantly (Fully)
Love Unconditionally
Listen Intentionally
Learn Continuously
Lend to others Generously
Lead with Integrity
Leave a Living Legacy Each Day
This is Guthrie Chamberlain reminding you to Keep Moving Forward, Enjoy Your Journey, and Create a Great Day Every Day! See you tomorrow for Wisdom Wednesday!