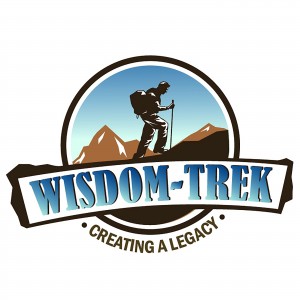 Wisdom-Trek / Creating a Legacy
Welcome to Day 439 of our Wisdom-Trek, and thank you for joining me.
This is Guthrie Chamberlain, Your Guide to Wisdom
13 Life Lessons Learned From a Jigsaw Puzzle
Thank you for joining us for our 5 days per week wisdom and legacy building podcast. This is Day 439 of our trek, and today is Motivation Monday. Every Monday we hike the trails of life that will encourage and motivate you to live a rich and satisfying life this week. Today we will explore 13 Life Lessons Learned from a Jigsaw Puzzle.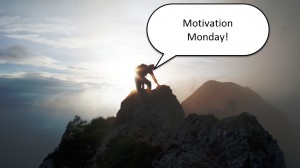 We are broadcasting from our studio at Home2 in Charlotte, North Carolina. When this episode originally airs, we will be back at The Big House for about 10 days. Over the weekend we are celebrating two granddaughters' birthdays. Hazel is turning 2, and Grace is turning 1. It is such a blessing to be able to celebrate with our grandchildren.
Coordinating the scheduling of important events of life can be challenging at times since life is full of twists and turns with many detours and obstacles along the way. Sometimes it is worthwhile to simplify life's challenges with a practical allegory that most of us can relate to.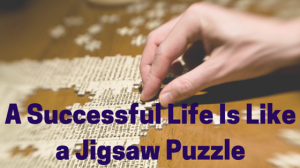 Let's break camp for today and conquer the…
13 Life Lessons Learned from a Jigsaw Puzzle
1. Don't force a fit. If something is meant to be, it will come together naturally.
2. When things aren't going so well, take a break. Everything will look different when you return.
3. Be sure to look at the big picture. Getting hung up on the little pieces only leads to frustration.
4. Perseverance pays off. Every important puzzle went together bit by bit, piece by piece.
5. When one spot stops working, move to another. But be sure to come back later.
6. The Creator of the puzzle gave you the picture as a guidebook. Refer to the Creator's guidebook often.
7. Variety is the spice of life. It's the different colors and patterns that make the puzzle interesting.
8. Working together with friends and family makes any task fun.
9. Establish the border first. Boundaries give a sense of security and order.
10. Don't be afraid to try different combinations. Some matches are surprising.
11. Take time often to celebrate your successes—even little ones.
12. Anything worth doing takes time and effort. A great puzzle can't be rushed.
13. When you finally reach the last piece, don't be sad. Rejoice in the masterpiece you've made and enjoy a well-deserved rest.
Our trek of life can be puzzling. It is filled with rough terrain, obstacles, detours, deep valleys, level plateaus, and glorious summits from which we can see for miles. At each stage of life's puzzle, keep putting the pieces that you have together one at a time. Within time you will see the picture much more clearly. Every piece is important. Even if it does not seem to add much to the overall picture, when the picture is complete, it will be very obvious that there is a missing piece, and your life picture will be incomplete.
Although you may not fully understand all the pieces that make up your life puzzle, we do have hope that our creator does. Ephesians 3:18-20 encourages us with these words, "And may you have the power to understand, as all God's people should, how wide, how long, how high, and how deep his love is. May you experience the love of Christ, though it is too great to understand fully. Then you will be made complete with all the fullness of life and power that comes from God.  Now all glory to God, who is able, through his mighty power at work within us, to accomplish infinitely more than we might ask or think."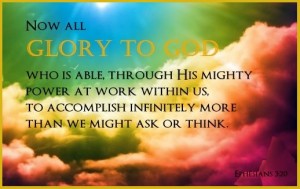 What an enjoyable trek that we took today comparing life to a jigsaw puzzle. Keep this analogy in your mind throughout this week and let it motivate you each day to live the rich and satisfying life that you were destined to live.
Tomorrow's short trek is part of our Wisdom Unplugged series that we are now hiking on Tuesdays and Thursdays. These 2-3 minute wisdom supplements will assist you in becoming healthy, wealthy, and wise throughout the entire week. So encourage your friends and family to join us, and then come along tomorrow for another day of our Wisdom-Trek, Creating a Legacy.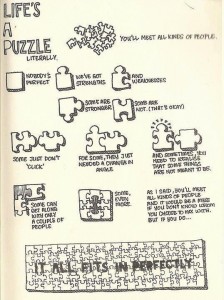 That will finish our trek for today. As you enjoy your daily dose of wisdom, we ask you to help us grow Wisdom-Trek by sharing with your family and friends through email, Facebook, Twitter, or in person inviting them to come along with us each day. If you would like to listen to any of the past daily treks, they are available at Wisdom-Trek.com.
Don't forget to subscribe to Wisdom-Trek, so each trek will be downloaded to you automatically. I would also appreciate it if you would rate and review us on iTunes or Google Play so that others will find out about Wisdom-Trek and join us.
Thank you for allowing me to be your guide, mentor, and most of all your friend as I serve you in through this Wisdom-Trek podcast and journal.
As we take this trek of life together, let us always:
Live Abundantly (Fully)
Love Unconditionally
Listen Intentionally
Learn Continuously
Lend to others Generously
Lead with Integrity
Leave a Living Legacy Each Day
This is Guthrie Chamberlain reminding you to Keep Moving Forward, Enjoy Your Journey, and Create a Great Day Every Day! See you on tomorrow!