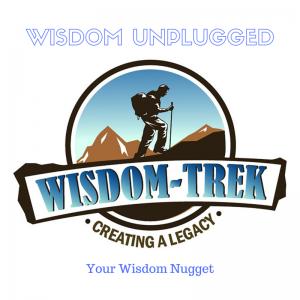 Wisdom-Trek / Creating a Legacy
Welcome to Day 650 of our Wisdom-Trek, and thank you for joining me.
This is Guthrie Chamberlain, Your Guide to Wisdom
The Surgery, Life Lessons Learned The Hard Way – Wisdom Unplugged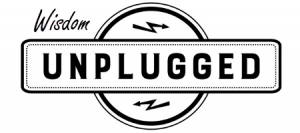 Thank you for joining us for our 5 days per week wisdom and legacy building podcast. This is Day 650 of our trek, and it is time for the 3rd installment of a special series of stories that will chronicle my recent accident and recovery as we trek "Life Lessons Learned the Hard Way."
This accident is a major life event that will change life for me for several months to come. In fact, I would say that it will certainly impact me for the remainder of my life. It is my hope and prayer that as I share that it will also positively impact your life.
I have often said, we must accept and live life as it truly is, not as we wished it to be. We don't always know or understand what will become of the uphill climbs and treacherous downhill slopes that we encounter on life's trek.
The key is to learn from these events and allow them to effectively become part of our living legacy which will positively impact our lives and the lives of all those who we impact. So for the next couple of Wisdom Nuggets episodes, we will look at…
The Surgery – Life Lessons Learned the Hard Way
First, for my faithful readers and regular listeners to my Wisdom-Trek Podcast and Journal, I want to apologize for the delay in episodes this past week. I will get caught up on all the days and get back on schedule as soon as feasible. If you would like to catch the first episode of this series, go to Day 645.
I ended Day-647, which was my story of the Emergency Room, with surgery being scheduled for the next day after a fitful night of sleep for both Paula and me. With my broken femur bone in my left leg, I could not really move in my bed easily. The nursing staff was in every hour to check vitals, monitor my pain, and then draw blood early in the morning for labs. We also had a roommate move in around 2 am, so between all of that, sleep was minimal. Poor Paula tried to get comfortable in the reclining chair in the room, but that was difficult at best.
The hospital did provide a very good omelet breakfast, and we finished up a pre-surgery sponge bath before the family arrived that morning. Everyone was in good spirits and confident that there should not be any issues arise during the surgery.
At about 11:15 am they came and got me to prep for surgery. There were two nurse technicians that took me to the OR wing and connected me to all of the equipment needed for surgery. The admitting doctor stopped by to make sure there were no questions. The surgeon popped in to check on me, and then they let the family into the room for a few minutes.
We chatted and I said it would be great to get a nice long nap. Everything seemed to be running efficiently, and before too long the anesthesiologist walked in and said it was time to begin.
I kissed Paula and said my goodbyes to the remainder of the family members as they headed to the waiting room. The sleepy medicine was put into my IV, and they wheeled me off to the Operating Room at about 11:45 am. Within about 20 feet of the hallway, I was out like a burnt out light bulb. The next recollection I had was waking up in the same room, and as I looked at the clock, it was only [12:20] and thought to myself, "Wow! That was quick." My next thought was, "So much for a long nap."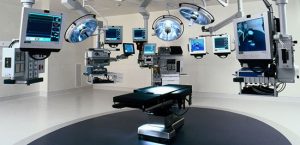 Within a few minutes of waking up, they wheeled me back to my hospital room where the family was waiting. The first thing I asked them was if the surgery was really that quick. They assured me that at most it was about 20 minutes.
During the surgery Marietta Memorial has a display board displaying the four steps of the surgery process and as each step is reached that symbol lit up on the board. It reminded them of the online order process for Domino's Pizza where you can track the process and know where your pizza order is throughout the process. (The surgery was just about as fast as ordering a pizza also.)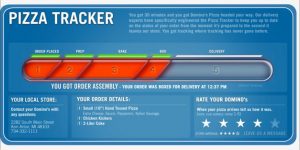 The first thought that came to my mind was, "Did they take the time to repair my fractured femur properly? I hope they did not rush through it." I think the family was feeling the same way but did not want to mention it. As we talked about the surgery, they said the surgeon came out to the waiting room afterward and talked with them.
At first, he joked a little about not being able to run for a while.  He then became serious and shared that it was indeed a serious fracture and that if I had fallen in any other manner that I could have easily died.
Paula said he repeated that three times, and that is all she remembers from the short talk as her mind started to dwell on that phrase and she realized that she could have been a widow that day. Little did any of the family know at the time that there was an incident during the surgery that also attributed to the surgeon's statements. As the surgeon was sharing, he did express that although I was 60, I was as physically fit as a 30-year-old and that will go a long way to a quick and complete recovery.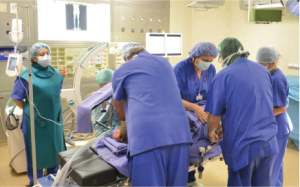 During pre-op everyone seemed concerned about how low my resting heart rate is, which is a condition called Bradycardia where the heart beats so slowly that not enough blood is pumped out of the heart.  It is somewhat common in individuals that run and exercise a lot as the heart muscles are strengthened.
After the surgery, many hospital staff members kept emphasizing that I was in extremely good physical condition for anyone of any age and that will certainly help to speed the recovery process. It is during times like these that I am so thankful that I have invested many hundreds of hours over the past decade focusing on becoming and staying physically, mentally, emotionally, and spiritually healthy.
The remainder of the day was filled with planning, visiting, sharing, and resting. All five of our grown children throughout this process were extremely concerned about how we would handle the recovery period and were making plans on how to assist.
This was of particular concern to them since we live in "The Big House," which is large and old. Our bedroom, bath, and offices are all upstairs. We had several discussions with them and came to the conclusion that it would be best for me to be upstairs and only navigate the stairs if really needed. This was the least disruption to our daily lives, especially since Paula's mom lives in half of the downstairs with her private bathroom being the only one downstairs. We are so thankful for our children, their concern, and their willingness to assist in any manner possible.
I was able to get up with help and sit in the chair for a while that afternoon. While in the bed, I was also sitting up for a good amount of time.
After everyone left for the day and I was trying to get comfortable, I had a spell where I started sweating. I then felt as if I would get sick to my stomach or faint as my vision started to close in from the sides. When it did not pass within a few seconds, I immediately lowered the head of my bed and elevated my feet. I told Paula to summons the nurse on duty.
During this process, I felt for my pulse on my wrist and realized that it was extremely weak and difficult to detect. In a matter of about 30 seconds after lowering my head, I started to regain a normal feeling, and my pulse started beating stronger and more regular. The nurses made it to the room shortly after that, and I explained my symptoms. They connected me to the monitor, and by that time my vital signs had indeed returned to normal.
Somewhat as a passing comment, the nurse shared that they had also lost my heartbeat during the surgery and had to give me a shot of Epinephrine to make sure that it stabilized. That was exactly what should have been done in my case. The surgeon when he stopped by the following day also shared that my heart rate had dropped during surgery and that it rebounded quickly.
I believe that covers most of the details from my day in surgery. I will share in the next couple of Wisdom-Nugget episodes my recovery, which continues to be a truly remarkable saga.
So my life lesson learned the hard way for today is, "Life is but a vapor. We need to cherish every moment with those that we love." As Jesus's half-brother James wrote in his letter James 4:14, "How do you know what your life will be like tomorrow? Your life is like the morning fog—it's here a little while, then it's gone."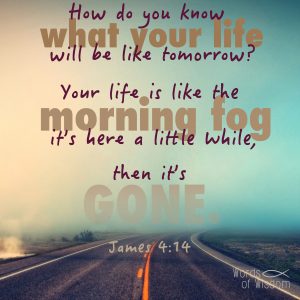 That's a wrap for today's Wisdom Unplugged, join us on the next couple Tuesdays and Thursdays for more life lessons learned the hard way as I share some recovery stories.
As you enjoy these nuggets of wisdom, please encourage your friends and family to join us and then come along tomorrow for another day of our Wisdom-Trek, Creating a Legacy.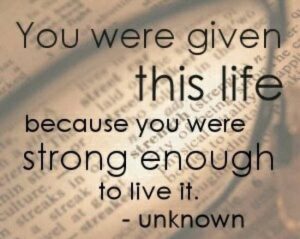 If you would like to listen to any of the past daily treks or read the associated journals, they are all available at Wisdom-Trek.com. You can also subscribe through iTunes or Google Play so that each day's trek will be downloaded automatically.
Thank you so much for allowing me to be your guide, mentor, and most of all your friend as I serve you through the Wisdom-Trek podcast and journal.
As we take this trek of life together, let us always:
Live Abundantly (Fully)
Love Unconditionally
Listen Intentionally
Learn Continuously
Lend to others Generously
Lead with Integrity
Leave a Living Legacy Each Day
This is Guthrie Chamberlain reminding you to Keep Moving Forward, Enjoy Your Journey, and Create a Great Day Every Day! See you tomorrow for Wisdom Wednesday!