Listen to the Wisdom-Trek episode for today
Get Updates About Wisdom-Trek
Podcast: Play in new window | Download
Subscribe: Apple Podcasts | Android | Email | Google Podcasts | Stitcher | Spotify | RSS | More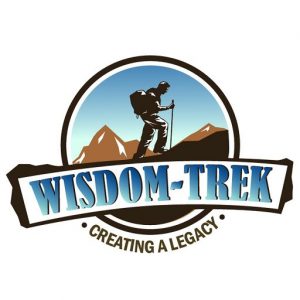 Wisdom-Trek / Creating a Legacy
Welcome to Day 659 of our Wisdom-Trek, and thank you for joining me.
This is Guthrie Chamberlain, Your Guide to Wisdom
An Eagle and a Sparrow – Mindshift Monday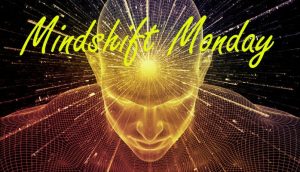 Thank you for joining us for our 5 days per week wisdom and legacy building podcast. This is Day 659 of our trek, and it is time for our Mindshift Monday series. Wisdom-Trek's primary focus is to assist you in creating your living legacy. Creating your living legacy can only be accomplished by gaining wisdom in many areas of life.
You can only gain wisdom by changing what you allow to go into your mind, which is a result of changing the way you think. In other words, to create your living legacy you must choose to be in a continual mode of mindshift.
It is easy to get stuck in a mindset that your current circumstances cannot be changed. This is not true, but you must understand this fundamental principle…In order to change your life, you must change how you think and what you think about. Our Mindshift Monday podcast and journal will provide you practical ways to make a mind-shift to a rich and satisfying life. 
We are broadcasting from our studio at The Big House in Marietta, Ohio. The healing of my fractured femur continues to progress rapidly. I have a new cane on order which should arrive this week. I am to the point where I can walk unassisted for short distances, so the cane should provide me with the needed steadiness where I will not have to use the crutches or a walker anymore.
While I am still experiencing a good amount of pain, it is certainly tolerable. I realize that my good physical condition and strong leg muscles before the accident have helped a lot, but the rapid healing is nothing short of a miracle from God provided by the prayers of many believers around the world. I thank you for and covet your continued prayers for complete healing and restoration.
Sunday we celebrated our granddaughter Aurora's sixth birthday. It is so great to have a close knit family and share these blessed times together. We are of a kindred spirit as we celebrate life.
It is also our choosing to have the mindset that life is about encouraging one another to live to our God-given potential. God desires us to soar to our greatest heights possible. So on our trek today, I desire to compare and contrast two different mindsets so that you can have a mindshift by comparing…
An Eagle and a Sparrow
A famous English preacher Joseph Parker is quoted as saying, "An eagle does not roost in a sparrow's nest." The Bible also has something to say about the sparrow and the eagle. Jesus illustrated the care of our Heavenly Father in Matthew 10:28-31, "What is the price of two sparrows—one copper coin? But not a single sparrow can fall to the ground without your Father knowing it. And the very hairs on your head are all numbered. So don't be afraid; you are more valuable to God than a whole flock of sparrows."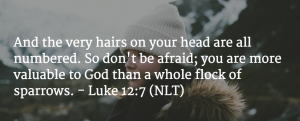 The sparrow represents something rather insignificant and of lesser value. The eagle, in contrast to the sparrow, is pictured as strong and great as it soars into the high heavens.
My life verses are found in Isaiah [40:28]-31.
Have you never heard?
Have you never understood?
The Lord is the everlasting God,
the Creator of all the earth.
He never grows weak or weary.
No one can measure the depths of his understanding.
He gives power to the weak
and strength to the powerless.
Even youths will become weak and tired,
and young men will fall in exhaustion.
But those who trust in the Lord will find new strength.
They will soar high on wings like eagles.
They will run and not grow weary.
They will walk and not faint.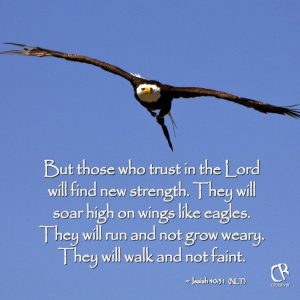 What a thrill to know that there's power from God that will help us attain spiritual heights as the eagle attains physical heights. As Christ followers, we ought to be like the eagle, never to roost in a sparrow's nest. God has designed and empowered us to be like the eagle. Each day it's possible to reach another unknown height. Each step that we take on our trek of life can bring us experiences, growth, and adventure as we walk by faith. Yet, unless you have a mindshift, you will settle into the sparrow's nest.
The reason for this level of living, though sad, is obvious. Some people are more satisfied with their current station in life than the effort it would take to advance up the mountain. There are certain levels of nesting upon the mountain of life that appealingly say, "Stop here, settle down, and be satisfied." 
It is easier to talk about climbing the mountains of life than to actually make an effort to climb them. It is easier to "chew the fat" than to walk it off. The mountain is an excellent analogy for real life. There are many more satisfied to remain on the plains or in the foothills than to venture up the steep and winding path. The "sparrows nest" is a popular place of refuge.
If you allow yourself to focus on mindshift, then you take on a new mindset. You are like the eagles. In doing so, you choose to keep your eyes on the heights. Slowly, steadily, with determination, you can pass the "sparrow's nest." You need not be distracted by the living monuments of quitters who mark the pathway to the top of the mountain.
When you determine to continue up the trail to the summit, you are reminded that life is about the journey, not just reaching the destination. That joy comes through the striving and not through the settling down. That victory and quitting are not compatible.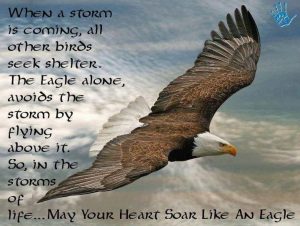 With the proper mindshift, we can climb onward and upward like the eagle soaring ever higher. Those that are resting in the "sparrows nest" look on with great interest. They are ever ready to discourage those that are trudging to reach new heights. If we continue our climb, we may be criticized. If we reach the summit, the sparrows will rationalize.
As we continue life's trek towards the summit, it will be less crowded, but those that are trekking with you will be encouragers. We will find great fellowship and conversation about discipline, sacrifice, joy, happiness, achievement, and success.
The closer we get to the summit the more clearly and farther we can see. It is beautiful, and life is much richer and more satisfying. That feeling comes as a result of a mindshift to dedicate yourself to hard work and determination. That feeling of exhilaration surges through you when you know you have done everything possible to fulfill the potential that God has given you. That feeling of achievement assures you that your talents and energies have been wisely expended. You have soared like an eagle. You have seen further and will not settle for less. Yes, you have climbed like the eagle, and there is nothing that can make you roost in the sparrow's nest again, ever.
With these thoughts in mind, we will conclude our trek for today and as we do, I encourage you to make a mindshift change in your life that you will choose to soar like an eagle and not be satisfied nesting with the sparrows.
Next week we will continue our trek of Mindshift Monday. On tomorrow's trek, we will explore another wisdom quote. This 3-minute wisdom supplement will assist you in becoming healthy, wealthy, and wise each day. Thank you for joining me on this trek called life. Encourage your friends and family to join us and then come along tomorrow for another day of our Wisdom-Trek, Creating a Legacy.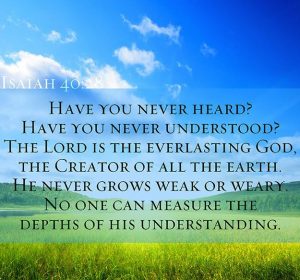 If you would like to listen to any of our past treks or read the Wisdom Journal, they are available at Wisdom-Trek.com. You can also subscribe at iTunes or Google Play so that each day's trek will be downloaded automatically.
Thank you so much for allowing me to be your guide, mentor, and most of all your friend as I serve you through the Wisdom-Trek podcast and journal.
As we take this trek of life together, let us always:
Live Abundantly (Fully)
Love Unconditionally
Listen Intentionally
Learn Continuously
Lend to others Generously
Lead with Integrity
Leave a Living Legacy Each Day
This is Guthrie Chamberlain reminding you to Keep Moving Forward, Enjoy Your Journey, and Create a Great Day Every Day! See you tomorrow!