Listen to the Wisdom-Trek episode for today (0:08:59)
Get Updates About Wisdom-Trek
Podcast: Play in new window | Download
Subscribe: Apple Podcasts | Android | Email | Google Play | Stitcher | RSS | More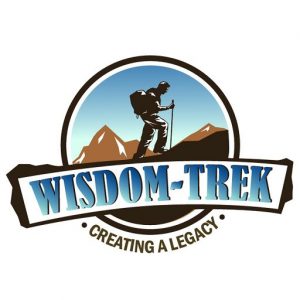 Wisdom-Trek / Creating a Legacy
Welcome to Day 716 of our Wisdom-Trek, and thank you for joining me.
I am Guthrie Chamberlain, Your Guide to Wisdom
Lady Wisdom from A to Z – Proverbs 31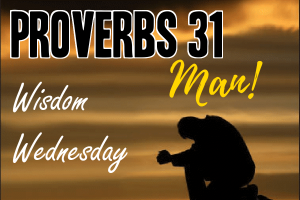 Thank you for joining us for our 5 days per week wisdom and legacy building podcast. Today is Day 716 of our trek, and it is Wisdom Wednesday. Every Wednesday along life's trails we dig for the nuggets of wisdom that are found within the book of Proverbs. Today we will explore the final chapter, Proverbs 31 from The Voice Translation, which gives us a fresh perspective on this book of timeless wisdom.
We are broadcasting from our studio at The Big House in Marietta, Ohio. As we complete this 31 week series in Proverbs, I would like to reemphasize that all the precepts found in God's Word have the law of planting and harvesting built into them. If you plant good seeds in life, you will reap a bountiful harvest of good. The opposite is also true.
Over the course of our lives, we will harvest what we plant. The entire book of Proverbs provides us with rich wisdom, insight, and understanding on a myriad of life issues. Regardless of where you are in your faith walk, if you follow the precepts in Proverbs, your life will be rich and satisfying. I encourage you to take them and plant the seeds of wisdom in your heart so that you will reap a harvest of wisdom throughout your life. Today we will explore Proverbs 31 about a very wise lady as we see…
Lady Wisdom from A to Z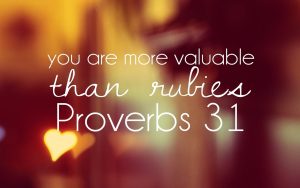 In Chapter 31 we hear from the second non-Israelite. Like Agur, Lemuel is a wise son, but unlike Agur, Lemuel is also a king. This is "an oracle" of Lemuel (verse 1).
We don't know anything about Lemuel, such as where or when he was a king, but just as Chapter 30 opened with Agur's short autobiography (30:1-9), Lemuel begins with his own as well (31:1-9). We learn that all his wisdom came from his mother, who warned him about women and wine and instilled in him the high value of advocating for the poor and needy.
Women are very important throughout Proverbs as we saw the very idea of wisdom personified as a woman (Chapters 1-9). This final poem continues this theme by creating a portrait of a particularly wise woman who shows true, deep understanding.
This 22-verse poem is designed as another Hebrew alphabet poem. Each line begins with a new letter and shows how this woman embodies wisdom from A to Z. She blesses her household and is praised by her family. Just as we met Lady Wisdom at the beginning of Proverbs, it is a fitting conclusion to see this portrait of a wise woman who blesses her household and earns the praise of her family. It is a compelling vision of a life devoted to the wisdom and blessing of the LORD.
How has your life been shaped by wisdom? What areas still need to be aligned with God's wisdom?
This marks the end of our time in Proverbs. This whole book is an exploration on how to live well in God's good world. Come back to this book again and again as you build a life on the foundation of God's wisdom.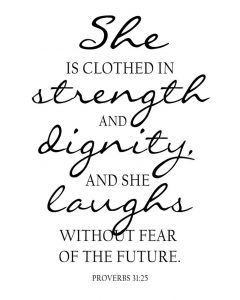 Listen intently as I read Proverbs 31.
1 These are the words of King Lemuel. An oracle of wisdom handed down to him by his mother:
2 Mother: What shall I say to you, my son? What wisdom can I impart, child of my womb?
What insight can I share, son of my vows?
3 Do not waste your strength on women
or invest yourself in women who would destroy even kings.
4 Take care, my son, O Lemuel.
Kings should not drink too much wine
or rulers should not crave strong drink;
5 For if they do, they will become drunk and forget the decree they just made
and alter the course of justice for all the poor and afflicted.
6 Rather, give liquor to one who is dying,
and offer wine to those struggling with life's harsh realities.
7 Let such a one drink and forget what he is missing;
then perhaps he won't remember his sorrows anymore.
8 Speak out on behalf of those who have no voice,
and defend all those who have been passed over.
9 Open your mouth, judge fairly,
and stand up for the rights of the afflicted and the poor.
10 Who can find a truly excellent woman? One who is superior in all that she is and all that she does?
Her worth far exceeds that of rubies and expensive jewelry.
11 She inspires trust, and her husband's heart is safe with her,
and because of her, he has every good thing.
12 Every day of her life she does what is best for him,
never anything harmful or hurtful.
13 Delight attends her work and guides her fingers
as she selects the finest wool and flax for spinning.
14 She moves through the market like merchant ships
that dock here and there in distant ports,
finally arriving home with food she's carried from afar.
15 She rises from bed early, in the still of night,
carefully preparing food for her family
and providing a portion to her servants.
16 She has a plan. She considers some land and buys it;
then with her earnings, she plants a vineyard.
17 She wraps herself in strength, carries herself with confidence,
and works hard, strengthening her arms for the task at hand.
18 She tastes success and knows it is good,
and under lamplight she works deep into the night.
19 Her hands skillfully place the unspun flax and wool on the distaff,
and her fingers twist the spindle until thread forms.
20 She reaches out to the poor
and extends mercy to those in need.
21 She is not worried about the cold or snow for her family,
for she has clothed them all in warm, crimson coats.
22 She makes her own bed linens
and clothes herself in purple and fine cloth.
23 Everyone recognizes her husband in the public square,
and no one fails to respect him as he takes his place of leadership in the community.
24 She makes linen garments and sells them in the market,
and she supplies belts for tradesmen to carry across the sea.
25 Clothed in strength and dignity, with nothing to fear,
she smiles when she thinks about the future.
26 She conducts her conversations with wisdom,
and the teaching of kindness is ever her concern.
27 She directs the activities of her household,
and never does she indulge in laziness.
28 Her children rise up and bless her.
Her husband, too, joins in the praise, saying:
29 "There are some—indeed many—women who do well in every way,
but of all of them only you are truly excellent."
30 Charm can be deceptive and physical beauty will not last,
but a woman who reveres the Eternal should be praised above all others.
31 Celebrate all she has achieved.
Let all her accomplishments publicly praise her.
That will conclude our exploration of Proverbs 31 and the entire book of Proverbs. The woman wisdom provides us with an example that all of us can follow regardless of our gender. As we complete the book of Proverbs, we need to strive to be complete in our lives and in our wisdom. Next week we will begin a new series for Wisdom Wednesday as we explore Biblical Worldviews of some of the hot topics that are prevalent today. If you have any topics that you would like us to cover, please email them to me at guthrie@wisdom-trek.com.
Tomorrow we will continue with our 3-minute wisdom nugget that will provide you with a bit of wisdom that, if followed will allow you to grow healthier, wealthier, and wiser each day. So encourage your friends and family to join us and then come along with us tomorrow for another day of our Wisdom-Trek, Creating a Legacy.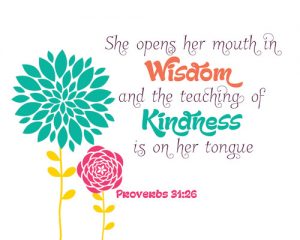 That will finish our trek for today. If you would like to listen to any of the past daily treks or read the associated journals, they are all available at Wisdom-Trek.com. You can also subscribe through iTunes or Google Play so that each day's trek will be downloaded automatically.
Thank you for allowing me to be your guide, mentor, and most of all your friend as I serve you through the Wisdom-Trek podcast and journal.
As we take this trek of life together, let us always:
Live Abundantly (Fully)
Love Unconditionally
Listen Intentionally
Learn Continuously
Lend to others Generously
Lead with Integrity
Leave a Living Legacy Each Day
This is Guthrie Chamberlain reminding you to Keep Moving Forward, Enjoy Your Journey, and Create a Great Day Every Day! See you tomorrow!