Listen to the Wisdom-Trek episode for today
Get Updates About Wisdom-Trek
Podcast: Play in new window | Download
Subscribe: Apple Podcasts | Android | Email | Google Play | Stitcher | RSS | More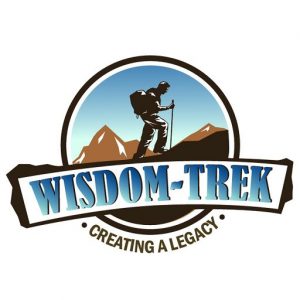 Wisdom-Trek / Creating a Legacy
Welcome to Day 643 of our Wisdom-Trek, and thank you for joining me.
This is Guthrie Chamberlain, Your Guide to Wisdom
Freedom from Worry

Thank you for joining us for our 5 days per week wisdom and legacy building podcast. This is Day 643 of our trek, and it is time for our Philosophy Friday series. Each Friday we will ponder some of the basic truths and mysteries of life and how they can impact us in creating our living legacy.
For the next several weeks we will focus how to live with less fear. We will explore the trails on our trek of life that will help us to be fearless. This does not imply that we will reach the point where were are completely without any fear, for that is not only impossible, but also not wise. There is a time and a place for an appropriate level of fear, but most fear that we experience on a daily basis has no grounding and can be eliminated as we grow in wisdom, insight, and understanding. So our objective for these next several Fridays is to experience a FearLess Friday on our trek of life. Today is our third installment about worry.
We are broadcasting from our studio at The Big House in Marietta, Ohio. The wildlife around our home appears to be flourishing. In addition to the two young hawks, which are very active and vocal, our deer population appears to be growing. I had previously mentioned the two bucks and two doe, and this week we saw another mama doe with two brand new fawns. They are very small, and their coats are spotted with bright white spots. None of the wildlife seems very concerned that we are around and will usually remain within site even when we are outside. It is enjoyable to watch as we go about our normal work duties. Just as the wildlife does not seem to worry about us, we need to take steps in our lives towards…
Freedom from Worry
Not only is worry counterproductive, but it is also a form of disobedience. God has told us not to worry, so to worry is to disregard His guidance. Isn't it strange that we don't usually think of worry as sin? But it is! Confess it as sin. Choose with your will to obey God and by faith depend on Him for the ability. Here are some practical tips that may help you in your pursuit of freedom from worry.
· Meditate on God's Word Daily
Plan a time daily when you can invest some time—even if it's only fifteen minutes—reading the Bible. Think about what you read and go over the phrases. Put your name in place of the pronouns, applying each verse to specific situations in your life. Memorize passages that will help you. God's Word is powerful—it will renew and protect your mind. As King David tells us in Psalm 119:11, "I have hidden your word in my heart, that I might not sin against you."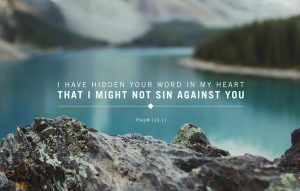 · Condition Yourself to Relax
Choose a phrase from Scripture or a hymn that you can repeat to yourself at the first hint of anxiety. Psalms 23:1 – The Lord is my shepherd; I have all that I need. The entire 23rd Chapter is good. As you repeat the phrase, you will encourage yourself with its message and remind yourself to relax. 
· Listen to Soothing Music
Just as David's music on the harp soothed King Saul's anxiety and depression, hymns, and spiritual songs are wonderful tranquilizers for us today. Haven't you had the experience of hearing or singing a hymn that lifted your spirits and eased your mind? You might want to listen to a recording, play an instrument, or sing yourself. Reflect on the words and relax in the melody.
· Talk through Your Problems
When you are worried about an issue or a relationship, don't fail to communicate. If you need to talk with a friend or your spouse, schedule a time when you can honestly tell them your concerns and listen to what they say. If it's necessary, talk with your supervisor or employer about some troublesome aspect of your job. Talk with your children and listen to them as well. Worries expand into giant problems in your mind when they are left to your imagination. They need to be exposed, then whittled down to size.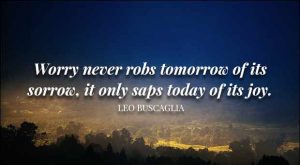 · Limit Your Worry Time
Counselors suggest this technique for people who are prone to anxiety…Set aside fifteen minutes a day for active worry—and no more. This will keep worry from distracting you for the rest of the day. If worrisome things come to mind, jot them down on a card and plan to think about them later. There are three positive results from this.
First, you can accomplish a great deal more during the day when you are free from anxiety.
Second, when your "worry time" comes, you're better able to deal with the problems because you feel good about your productive day. You can devote your total attention to your concerns and list them in order of seriousness.
Third, by the time you get to the worries, the problems may well have shrunk in importance. They may not seem worth worrying about after all.
· Design a Plan of Action
When something comes to mind that causes you anxiety, ask yourself what type of solution you can implement to minimize your concerns or correct the issue. Implement what you can and realize that there are many things in life that you cannot control. Do what you can, but leave the remainder and the results to God.
· Cultivate the Awareness of God's Presence in You
So many times our worry stems from that which we do not have, such as money, health, or control of others. Hebrews 13:5 – Don't love money; be satisfied with what you have. For God has said, "I will never fail you. I will never abandon you." Jesus gives us the strength for our tasks, the wisdom for decisions, the courage to face difficulties, and the victory over temptation. Keep up a running conversation with Him in your mind. This is what the Apostle Paul meant when he said in 1 Thessalonians 5:16-18, "Always be joyful. Never stop praying.  Be thankful in all circumstances, for this is God's will for you who belong to Christ Jesus."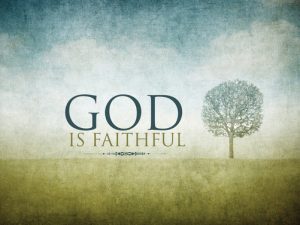 · Replace Worry with Prayer
Again Paul gave the Philippians this advice in 4:6-7, "Don't worry about anything; instead, pray about everything. Tell God what you need, and thank him for all he has done. Then you will experience God's peace, which exceeds anything we can understand. His peace will guard your hearts and minds as you live in Christ Jesus."
Instead of worrying, pray. You have a Father in heaven who is real, who loves you, who will provide for your every need. He wants you to pray, demonstrating your dependence on Him. And He will give you an unexplainable peace that will serve as a guardian over your mind.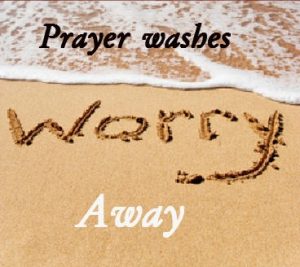 · Get Help from Others
Many times when you share with a friend something that is troubling you, you feel better immediately. Often a wise friend will be able to encourage and enlightens you through the Scriptures. Pray together, and by the time you part, God has used another believer to relieve your anxiety and strengthen your faith. Remember, we are members of one body and one family, and we are commanded to bear one another's burdens.
If you are a worrier, a fretter, or someone who is anxious much of the time, God wants to heal you. He has given you His promises, His protection, and His provision. We all have a choice, and we are responsible for the choices that we make. We can keep worrying, ruin our mental and physical health, and retard our spiritual development. There is an alternative though, and it is summed up in Romans 12:2, "Don't copy the behavior and customs of this world, but let God transform you into a new person by changing the way you think. Then you will learn to know God's will for you, which is good and pleasing and perfect."
Next Friday we will take a little bit of a different direction from our discussion about worry as we explore how we can fear less and have more victory on a daily basis. I know you will find these insights interesting and profitable in living a rich and satisfying life.
Our next trek is Mindshift Monday where we will help you live differently by thinking differently. So encourage your friends and family to join us, and then come along on Monday for another day of our Wisdom-Trek, Creating a Legacy.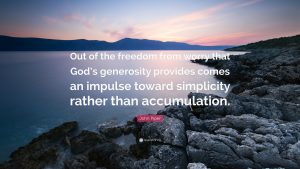 If you would like to listen to any of our past treks or read the Wisdom Journal, they are available at Wisdom-Trek.com. You can also subscribe at iTunes or Google Play so that each day's trek will be downloaded automatically.
Thank you so much for allowing me to be your guide, mentor, and most of all your friend as I serve you through the Wisdom-Trek podcast and journal.
As we take this trek of life together, let us always:
Live Abundantly (Fully)
Love Unconditionally
Listen Intentionally
Learn Continuously
Lend to others Generously
Lead with Integrity
Leave a Living Legacy Each Day
This is Guthrie Chamberlain reminding you to Keep Moving Forward, Enjoy Your Journey, and Create a Great Day Every Day! See you on Monday!